wowza!!!!!!!!!!!!
Infoamtion here???
5-11-26 Hydroponic Formula
5-11-26 Hydroponic Formula
Our 5-11-26 Hydroponic Formula is perfectly formulated for hydroponic growing. As with all of our water-soluble fertilizers, our 5-11-26 completely dissolves in water with no fallout and won't clog sprayers or automated fertilizer delivery systems. ORDER DIRECT FROM MASTERBLEND
Plant nutrients derived from: potassium nitrate, potassium phosphate, magnesium sulfate, boric acid, copper EDTA, iron DTPA, sodium molybdate, zinc EDTA.
Potential Basicity:  221 lbs. Calcium Carbonate Equivalent Per Ton.
Maximum Solubility: 3.5 lb/gallon
Step 1: Dissolve 8 lb of 5-11-26 in 1,000 gallons of water
Step 2: After the 5-11-26 and any necessary Epsom Salts have beenn dissolved in the tank, dissolve 86 oz of Calcium Nitrate in the same 1,000 gallons of solution.

Total Nutrient Concentration:

Nitrogen: 150 PPM N
Calcium: 129 PPM Ca

CAUTION:
Some crops may be injured by application of Boron.
This fertilizer is to be used only on soils that respond to Molybdenum.
Crops high in Molybdenum are toxic to ruminants.
Use this product only after a thorough water quality analysis has been performed.  Discuss results with an expert.  Weekly testing may be necessary.  Be certain to monitor media quality as well. Soil and plant tissue analysis are also recommended.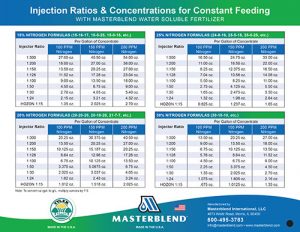 Injection Ratios