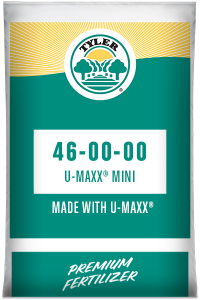 46-00-00 U-Maxx Mini
UMAXX® Mini nitrogen (N) fertilizer provides protection against all three forms of nitrogen (N) loss – leaching, denitrification and volatilization. It is a urea-based product with a 46-0-0 analysis, containing both urease and nitrification inhibitors. A completely soluble granular, UMAXX® fertilizer is equally effective whether spread dry or dissolved in a spray mix.  SGN 120-180.
Guaranteed Analysis
UMAXX 46-00-00 Mini Guaranteed Analysis
Total Nitrogen (N)


46.0% Urea Nitrogen

46%
Plant nutrients derived from: Urea
46.00% nitrogen stabilized with 21000ppm (2.1%) dicyandiamide and 900ppm (0.9%) N-(n-butyl) thiophosphoric triamide
Directions for Use
CAUTION: Observe good industrial hygiene practices. Wash hands after handling.
Turf Care & Maintenance Products