46-00-00 U-Flexx Standard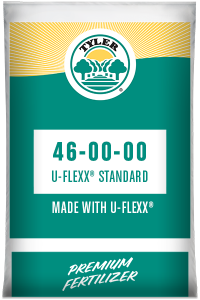 46-00-00 U-Flexx Standard
UFLEXX® stabilized nitrogen fertilizer is specially formulated for the professional lawn care and landscape markets. This unique product helps to protect against all three forms of loss – leaching, denitrification and volatilization – allowing time for nitrogen (N) to move into the root zone and stay there longer.
Guaranteed Analysis
UFlexx 46-00-00 Guaranteed Analysis
Total Nitrogen (N)


46.0% Urea Nitrogen

46%
Plant nutrients derived from: Urea
46.00% urea nitrogen stabilized with 10500ppm (1.05%) dicyandiamide and 900ppm (0.09%) N-(n-butyl) thiophosphoric triamide
Directions for Use
CAUTION: Observe good industrial hygiene practices. Wash hands after handling.
Turf Care & Maintenance Products