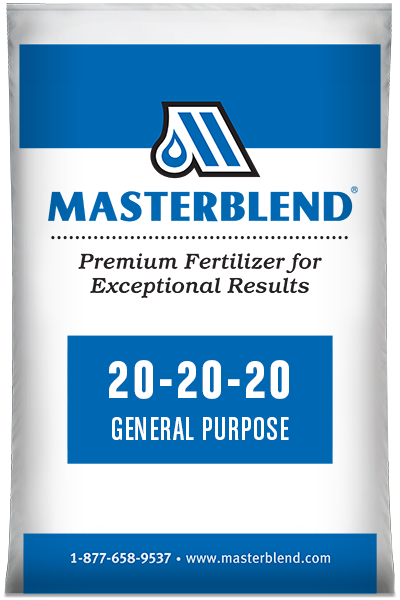 20-20-20 General Purpose
20-20-20 General Purpose formula is designed for application with any sprayer, injector or proportioner.  It is an all-purpose formula, safe for all growing plants.  No sodium, sulfate or chloride is used in formulation. The result is a balanced solution which will not "fall out" to clog equipment or soils.
Guaranteed Analysis
20-20-20 General Purpose Guaranteed Analysis
Total Nitrogen (N)


6.22% Nitrate Nitrogen




3.88% Ammoniacal Nitrogen




9.90% Urea Nitrogen

20%
Available Phosphate (P2O5 )
20%
Soluble Potash (K2O)
20%
Magnesium (Mg) (Total)


0.05% Water Soluble Magnesium (Mg)

0.05%
Boron (B)
0.0068%
Copper (Cu)


0.0036% Chelated Copper (Cu)

0.0036%
Iron (Fe)


0.05% Chelated Iron (Fe)

0.05%
Manganese (Mn)


0.0031% Chelated Manganese

(Mn)
0.0031%
Molybdenum (Mo)
0.01%
Zinc (Zn)


0.0025% Chelated Zinc (Zn)

0.025%
Plant nutrients derived from:  Potassium Nitrate, Ammonium Phosphate, Urea, Magnesium Sulfate, Boric Acid, Copper EDTA, Iron DTPA, Manganese EDTA, Sodium Molybdate, Zinc EDTA.
Potential Acidity: 583 Lbs. Calcium Carbonate per ton.
Maximum Solubility: 3.5 Lbs. Per gallon.
Caution: Some crops may be injured by application of Boron.
This fertilizer is to be used only on soils that respond to Molybdenum.
Crops high in Molybdenum are toxic to ruminants
Directions for Use
20-20-20 Injector Ratios
Ounces of MASTERBLEND 20-20-20 per gallon of concentrate.
| Ppm Nitrogen | 1:15 Injector Ratios | 1:100 Injector Ratios | 1:200 Injector Ratios | EC (mS/cm) |
| --- | --- | --- | --- | --- |
| 50 | 0.5 | 3.38 | 6.75 | 0.2 |
| 100 | 1 | 6.75 | 13.5 | 0.4 |
| 150 | 1.5 | 10.13 | 20.25 | 0.6 |
| 200 | 2 | 13.5 | 27 | 0.8 |
| 250 | 2.5 | 16.88 | 33.75 | 1 |
| 300 | 3 | 20.25 | 40.5 | 1.2 |
| 350 | 3.5 | 23.63 | 47.25 | 1.4 |
| 400 | 4 | 27 | 54 | 1.6 |
20-20-20 Ratios by Crop Type
| Crop Type | Constant Feed Ppm - N | Periodic Feed Ppm - N |
| --- | --- | --- |
| Bedding Plants | 100-200 | 200-250 |
| Containerized Woody Ornamentals | 75-125 | 200-350 |
| Cut Flowers | 175-225 | 300-450 |
| Potted Chrysanthemums | 250-350 | 350-400 |
| Potted Tropical Foliage | 125-250 | 250-300 |
| Potted Geraniums | 250-300 | 350-400 |
| Potted Poinsettias | 200-350 | 375-400 |
| Vegetable Seedlings | 25-75 | 75-150 |
Downloads
Commercial Growing Products