20-05-30 Tyler High K with UMAXX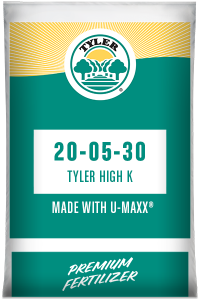 20-05-30 Tyler High K with UMAXX
20-05-30 Tyler High K with UMAXX is designed to provide the desired plant a quick postassium response after application. Nitrogen is stabilized with UMAXX for prevention of denitrification and leaching.
Guaranteed Analysis
Tyler High K 20-05-30 Guaranteed Analysis
Total Nitrogen (N)


1.0% Ammoniacal Nitrogen




8.2% Nitrate Nitrogen




10.8% Urea Nitrogen

20%
Available Phosphate (P2O5)
5%
Soluble Potash (K2O)
30%
Iron (Fe)


0.10% Chelated Iron (Fe)

0.10%
Manganese (Mn)


0.05% Chelated Manganese (Mn)

0.05%
Plant nutrients derived from:  Potassium Nitrate, Ammonium Phosphate, Urea.
Iron & Manganese are totally chelated by EDTA Chelate
Potential Acidity: 170 Lbs. Calcium Carbonate per ton.
Urea Nitrogen stabilised with N (N-Butyl) Thiophosphoric Triamide and Dicyandiamide.
Directions for Use
For Golf Course Use:20-5-30 Tyler High K  is designed to provide the desired plant a quick potassium response after application. Add the desired amount of fertilizer after spraying unit is half-full with water. Use warm water when possible as well as agitation to increase the speed of solubility.
Suggested Rate:
Use 25 lbs per acre to yield .1 lb. N – 17LBS. K per 1,000 sq. ft.
For Lawn & Turf Areas:
Apply 3 kg per 1,000 sq. mt. Using 1.000L of water every 14 days.
Nursery & Greenhouse Usage:
Use 1 lbs. per 100 gallons of water every 2 to 4 weeks.
CAUTION: Do not use with dormant oil, spray lime, lime sulphur or any high alkaline solution.
Turf Care & Maintenance Products